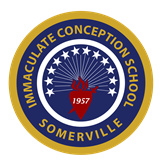 Click on school emblem for
ICS Website!

Here's What's Happening
​in Room 108!
​2nd Grade - Mrs. Massoni​


​​
​​
​

​​​​​
Hi Parents,​​

​
​Please visit our school website to see a video that the teachers at ICS, made for you!


You can also visit our school website for any updated school information.
Please try the following on-line resource for your child: https://www.goodhousekeeping.com/life/parenting/g31677468/education-companies-offering-subscriptions/.

Welcome back!
​Mrs. Massoni​​​​​
​​​
​​
​​​​​