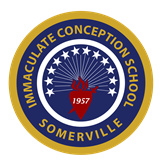 Click on school emblem for
ICS Website!

Here's What's Happening
​in Room 108!
​2nd Grade - Mrs. Massoni​


​​
​​
​

​​​​​
Dear Parents,​ ​​​​
​
​God bless your child on his/her First Holy Communion!

We are MAP Testing the week of May 16th. Please have your child bring in his/her headphones/earbuds.​​

The children had an amazing time at the, "Turtle Back Zoo!"


Have a blessed day!
​Mrs. Massoni​​​​​
​​​
​​
​​​​​