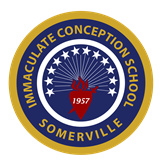 Click on school emblem for
ICS Website!

Here's What's Happening
​in Room 108!
​2nd Grade - Mrs. Massoni​


​​
​​
​

​​​​​

Welcome to 2nd Grade!

Vocabulary Shoebox Project due Tuesday, September 27th.

October is the, "The Month of the Rosary." Please use the blue strip of construction paper which is coming home, to write a special prayer, write an intention, or draw picture in honor of Mary.​ Please return the blue link by Thursday, September 29th.​
​
​​​
Have a blessed week!
​Mrs. Massoni​​​​​
​​​
​​
​​​​​