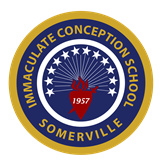 Click on school emblem for
ICS Website!

Here's What's Happening
​in Room 108!
​2nd Grade - Mrs. Massoni​


​​
​​
​

​​​​​
Dear Parents,

There will be a First Reconciliation meeting on Wednesday, November 17th at 7:15pm, in the Church for parents.

There is no school on Thursday, November 18th for our 2nd grade class due to Parent-Teacher Zoom Conferences.​​
​​
​​​There will also be several Saturday evening masses that you and your child will need to attend in preparation for First Holy Communion. The dates are as follows:

January 29th
February 19th
March 19th
April 2nd

First Reconciliation is on February 1st at 7:00pm.
First Holy Communion is on May 7th.​​​​​​​​​​
​
Please be sure to check your child's HW folder each day. Also, please be sure that your child is ready for class with 3 sharpened pencils each day, along with a healthy snack. Your child writes the homework down in his/her red/white notebook, the HW book.

Have a blessed day!
​Mrs. Massoni​​​​​
​​​
​​
​​​​​